For my work, I use mainly white porcelain as the material and the electric wheel as the most important tool.
I use the finest white porcelain which has the highest whiteness. To express the whiteness, I fire the porcelain at the highest temperature that can be withstood. To deal with such sensitive porcelain, a very sophisticated and keen observation and attention is required.
I like using an electric wheel most. I started my work by practicing to control the sensitive porcelain with the wheel. My porcelain and turning process does not allow for any tiny mistake until the firing and polishing is finished so that I needed a tremendous amount of practice to make a high quality object. In my early work, I made the simplest objects repeatedly strictly for practice.The main characteristic of my work is the simplest form with added geometric decoration which never interferes with the original form. It is the result of my practice journey towards making more elaborate objects.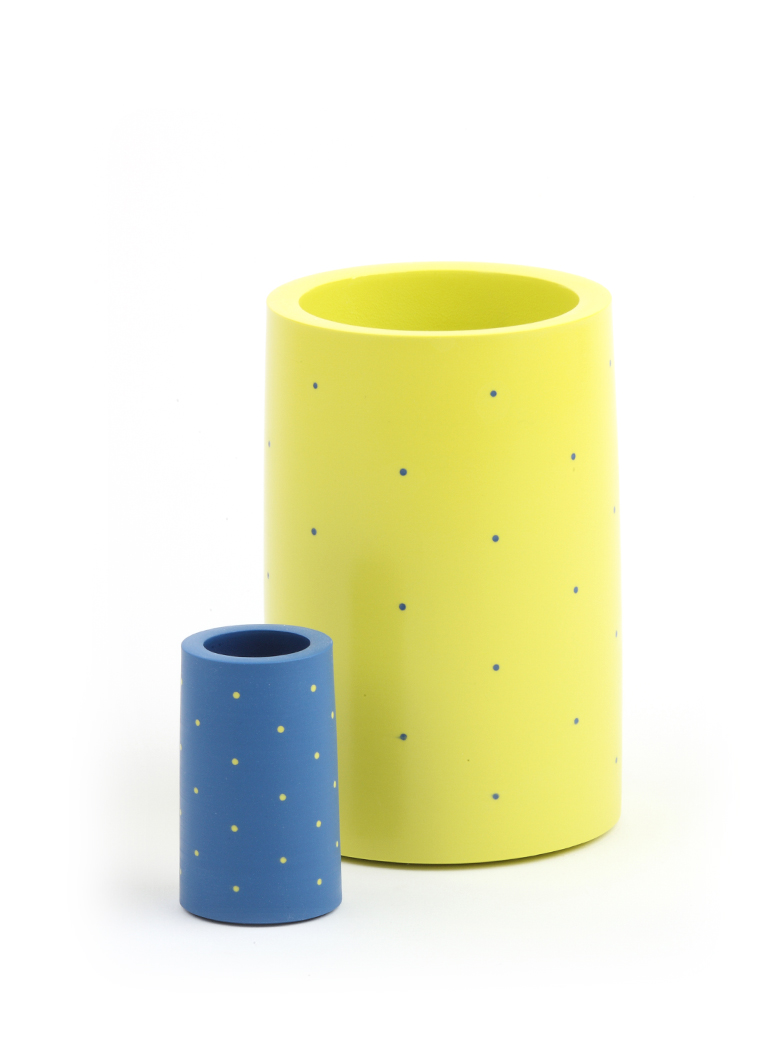 | | |
| --- | --- |
| 1986 | Born in Gyunggi-do, Korea |
| 2006-'10 | B.F.A., Departments of Crafts & Design, Seoul National University, Korea |
| 2010-'12 | M.F.A., Faculty of Crafts & Design, Seoul National University, Korea |
| 2012-'15 | Own studio in Naksung-dae, Seoul, Korea |
| 2016-'18 | Product Design in Burg Giebichenstein Kunsthochschule Halle |
| 2018 | Own Studio in Dießen, Bavaria, Germany |
My work involves creating a form with multiple layers of color and cutting the object to show their stratum. The series has been made in various sizes and colors by repeating the same process. The series began with my interest in multicasting.
Multicasting is a kind of slip- casting, which uses distinct colored slips as numerous layers, and I have evolved it into my own unique method by combining the wheel-throwing method, which I've been practicing for a very long time. My works are made in the following order:
First, I place a gypsum mold that can make a cylindrical shape on a wheel and turn it. Then I pour the slip into the mold and apply it to the wall interior. Once the gypsum absorbs some of the moisture, I pour in a different color slip. Repeating this process creates a form of multiple layers of slip.
Once the object is dry, I remove it from the cast and geometrically cut out a piece of the object with a knife. The reason for this is to expose the cross section of the multi-layered ceramic wall.
| | |
| --- | --- |
| 1980 | Born in Seoul, Korea |
| 2000-'08 | B.F.A., Departments of Crafts & Design, Seoul National University, Korea |
| 2008-'12 | M.F.A., Faculty of Crafts & Design, Seoul National University, Korea |
| 2010-'14 | Own studio in Naksung-dae, Seoul, Korea |
| 2014-'17 | Yanggu Porcelain Institute Reserch Manager, Gangwon-do, Korea |
| 2018 | Own Studio in Dießen, Bavaria, Germany |
Email
---
bokyung.minsoo@gmail.com
---
Address
Prinz-Ludwig-Straße 22C
86911 Dießen am Ammersee
Germany
---
Öffnungszeiten
Mittwoch bis Samstag
13Uhr - 18Uhr
order nach Vereinbarung